Turing is on a mission to unleash the world's untapped human potential by bridging the gap between the software engineering talent that exists around the world and the amazing opportunities at leading companies across Silicon Valley and the U.S.
In today's remote-first world, it can be hard for software developers to get noticed among a planetary pool of talent. That's where Turing steps in to help build your dream engineering career, powered by AI.
What does Turing do?
Turing's Intelligent Talent Cloud uses AI to connect the world's best software developers to high-quality U.S. jobs. Using AI-powered deep vetting and job matching techniques, Turing vets the world's most skilled developers with great technical, communication, collaboration, and problem-solving skills and helps them build dream careers with leading U.S. companies including Fortune 500 companies, unicorns, and fast-scaling start-ups.
How can Turing help me build a strong career?
Turing also goes beyond helping developers find jobs. In the mission to be your long-term career partner, Turing supports developers through their software engineering journey.
Once matched, Turing helps developers navigate through their careers with: Lifelong matching to high-quality U.S. jobs Personalized career mentoring 24/7 support from our HR & developer success team Regular and secure payments Access to a career-centric developer community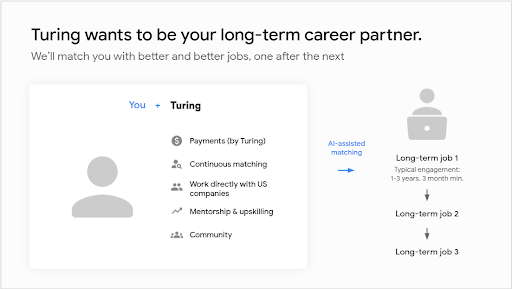 Who are the founders of Turing?
Turing's executive team and investors come from leading Silicon Valley tech companies. Founders, Jonathan Siddharth and Vijay Krishnan created Turing.com to help tech companies across Silicon Valley and the U.S. leverage globally distributed teams for software development at scale. Currently, Turing is valued at over a billion dollars in the market, making it one of the fastest-growing unicorns on the planet.
Turing is also backed by well-known investors such as: Adam D'Angelo (Facebook's first CTO & CEO at Quora) WestBridge Capital Foundation Capital (backers of Netflix & Uber) Founders Fund Beerud Sheth (the founder of Upwork) AltaIR Capital HR Tech Investments LLC (an affiliate of Indeed), Brainstorm Ventures Frontier Ventures Modern Venture Partners Plug and Play Scale Fund Executives from Google, Facebook, Amazon, Twitter, Microsoft, and others.