Once you have completed your profile, Turing will send you an email inquiring about your current availability. This helps us know that you are available for job opportunities that may come up in the upcoming 30 days. Turing's matching system prioritizes developers who have most recently updated their availability.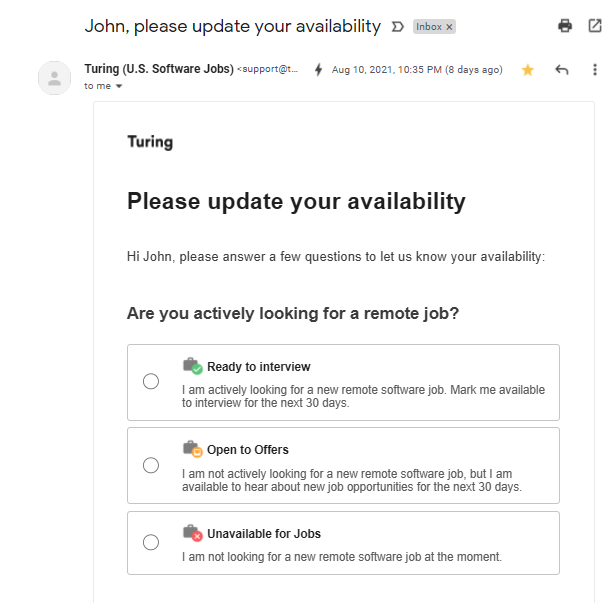 If you have signed up on Turing but have not been matched to a job yet, you may receive this email in the future as well.
In order to maximize your chances of getting hired, it's best to keep your availability updated according to your latest schedule. As long as you are looking for a new job, please make sure to update your availability weekly. The system will automatically consider you unavailable for new jobs after 30 days of your last availability update.
However, this email does not indicate that we already have an offer waiting for you. This is one of the criteria that is considered while screening for ideal candidates. In order to ensure your profile is eligible for the exciting U.S. jobs that Turing is hiring for, please ensure the following:
Clear the Turing tests and Coding Challenge.
Update your resume properly (ask Turing for help if required).
Update your availability, this can be done as shown above.
Take as many tech stack tests as you can (show off your skills!).
Want to know how you can check and update your current availability status in your Turing profile? Click here for a guide to this.