Learn about the Turing Developer Rate Tool, and how to use it :)
At Turing, we help you build your dream career focused on your growth by using AI to match you with a multitude of high-paying jobs. We give you the autonomy to set your own rate, and the flexibility to work from anywhere.
What is the Turing Rate Tool?
When you update your personal information on the Turing portal, you're asked to mention a 'preferred annual rate'; i.e. how much you would like to get paid for the services you offer. Once you submit this information, the Turing Rate tool analyzes it on the basis of the average rate offered to remote developers of your tech stack and your experience.
Most partner companies that Turing works with, assign a specific budget for remote software developer roles. The Rate tool also reviews your expectations against them.
Once the set rate is reviewed, the Turing rate tool suggests changes, if any, to help you set a rate that will optimize your chances of being matched. In case your salary expectations exceed the expected rate for your tech stack and years of experience, the Rate Tool will prompt you to lower them for a quicker match.
How do I use the Rate Tool?
Once you receive our contact to update your rates you will have access to our Rate Tool where you can set a new rate, update your information, and boost your chances of getting matched in less than 5 minutes!
For example: If a developer can increase their chances of getting AI-matched to their dream opportunity by lowering their expected rate by ~20%, the Rate Tool will let them know.
If you're getting the prompt, here's how you can update your expected rates and get matched successfully it:
1.
Access our Rate Tool via the developer portal or via the link you receive by email or WhatsApp :)
2. Review and Update your information
: Review the three fields, Preferred Role, Years of Experience, and Expected Annual Rate.
3
. Click on
Update Information4
. Wait while we process your information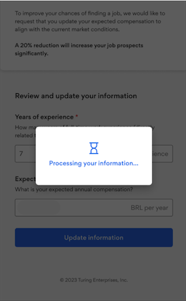 5
. Click on
Continue to update page
Once the Rate Tool reviews your new expected rate, you would be matched with an exciting job role and a suitable company.
Note: You might receive another prompt to lower your expected rate. This can happen when your submitted rate is above what we believe is a competitive for a developer with similar skills, tenure, and location.
After you update your expected rate we will send you a confirmation email with the details of the new rate.
Looking for more? I and if you have any concerns or require further clarification about your annual rate or any other aspect of your work with Turing, please contact us on our support channels!